Facilities

Rotorua Boys' High School has an extensive range of facilities available for hire by private and commercial groups and organisations after school hours and during school holidays.
Whether for a one-off event, evening or weekend use, the school's well-equipped facilities are ideal for a multitude of uses and represent excellent value for money.
The grounds and facilities available for hire out of school hours include:
Rugby Field
Soccer Field
Cricket Ground
Gymnasium
The Millennium Centre
For more information about our hire facilities please contact:
Mrs Nawa Ruckes
Business Manager
Rotorua Boys' High School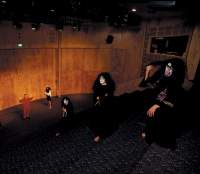 Millennium Centre - Colman Theatre (an acoustic theatre)
Tiered seating for 130 (available with or without chairs)
Lighting and sound system available
Theatre walls open out by approximately 5 metres for soundshell effect.
Millennium Centre - Independent Study Centre
30 computers available
Hirers to provide their own software and printer cartridges
Our modern hostel at Rotorua Boys' High School offers affordable, comfortable central city accommodation during every school holiday. Opened in 2005, our hostel is superbly equipped.
Hostel Facilities include
130 beds in fully heated rooms
All bed linen is supplied
Two blocks, each with two floors. Each floor has its own bathroom and each house has a kitchenette
Comfortable communal areas with SKY TV on large-screen TV
Laundry
Commercial Luandry plus domestic washing machines and clothes dryers.
Conference Facilities
Available for those who want the convenience of accommodation and business on the same site.
Location
Tai Mitchell Hostel is located on the school campus, just a few mintues walk to the centre of town. The Aquatic Centre is even closer.
If you are making arrangements for any group size up to 130 people, the Tai Mitchell Hostel is ideal for school or other groups, male and female of any age.
For further information contact:
Mr Sam Cameron
Hostel Manager
Rotorua Boys' High School
Telephone: +64 7 348 6169 ext 221