Our School Crest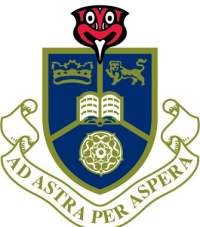 A very real symbol of our school is the school crest. This crest is present on our uniform, letterhead, vehicles and buildings. It is the visual representation of our school, and most who live in Rotorua and the Bay of Plenty recognise it as a key image associated with our school for nearly 100 years.
Our crest however is not only a visual symbol, but it reflects very clearly a set of values, beliefs and relationships which we as a school stand for. Our crest represents much to do with the philosophy of the school, and our commitment to the education of young men of the city over the decades. Our crest represents our desire to aim high and to reach for the stars. It is compatible with our vision "to become the outstanding Boys' High School in New Zealand".
The central shield of the crest was origingall created in 1915. It was then modified with the addition of the carved Maori head and the scroll with the Latin Motto in 1927. There are six key elements to our crest as follows:
The Open Book – this of course refers to learning and education.
The White Rose – this is a traditional heraldic symbol and demonstrates the relationship of our country to England.
The Lion – again this is a traditional heraldic symbol particularly common to Grammar Schools, demonstrating the relationship of the school to English traditions. Furthermore, the Lion stands for strength, courage, honour and pride, and the determination to never give up, and to overcome adversity.
The Crown – this demonstrates the relationship of the school to the Queen and the Crown. The Crown is also a symbol of authority and leadership. It is about setting in place a pathway for success in life and working towards realising one's ambitions with determination and enthusiasm.
The Carved Maori Head – this is symbolic of the relationship of the school with Ngati Whakaue, and acknowledges the 1880 endowment by Ngati Whakaue of our school site for education. The position of this Maori Head atop the crest is indicative of the value given to this relationship.
The Latin Motto – this Motto which was selected from a public competition by Mr Ryder (the sixth Headmaster of the school) has been translated to represent "To the stars through adversity" or "To the stars through hard work".
More recently and more appropriately perhaps, given the bi-cultural make up of school today the Maori equivalent "Whaia te iti kahurangi" has been added, and is now boldly displayed on the front of the main school building for everyone who arrives at the school to see.
Since 1915 this crest has been worn with pride and has been our special symbol. More than that, it is a statement of what is important to our school community. Our crest tells the story of our school and that story is as appropriate today as it was when it was first created in 1915.