Subjects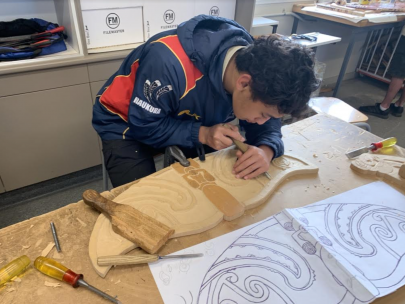 Art and Carving
Art and Carving stimulates the imagination, thinking, and understanding. They are powerful forms of personal, social, and cultural expression. They provide a unique way of knowing that enables an individual or group to create ideas and images that reflect, communicate, and change a participant's view of the world. Often, we feel untouched by the problems or issues of others. These art forms do not show people what to do to solve an issue or problem, they stimulate engaging the senses, mind and may make an issue felt. This felt feeling may spur engagement and action.
The study in the subjects Art and Carving are concerned with the development of visual literacy. Makers and presenters of art works or taonga need to develop literacy in order to structure ideas and communicate meaning. So too do viewers, to be able to interpret works in an informed way as they bring their own perceptions, experiences, and values to them.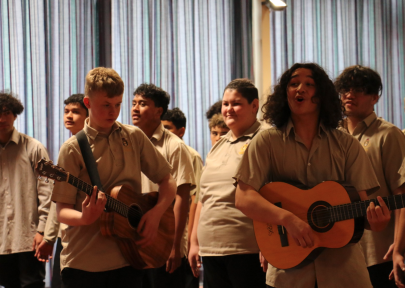 Music
Music is a fun, creative subject which has a practical and performance driven focus.
It encompasses four main aspects. Performance: Rehearsing on an instrument of your choice and gaining confidence in performing in a solo or group situation. Whether this be to a small group, a class or an assembly, confidence in performing is key to any musician's progress. Composition: Creating, writing and developing original pieces of music. This may include Songwriting, Movie Music and composing using Digital technologies. Understanding Music in context: Why we do music and what it is all about. Theory: developing listening skills, being able to write down rhythms or chord progressions and understanding how to follow music scores.
Studying Music helps with the following:
Developing Creative thinking
Composing original music and working with others in a creative way.
Teamwork and Discipline
Working with others in group or band situations. Staying focussed to benefit not only yourself but your other group members.
Overcoming Fears and Taking Risks
Performing in a solo or group situation in front of other people or a video camera, recording yourself singing.
Co-ordination and Concentration
Regular practice on an instrument, working and repeating more difficult passages of music, learning new skills.
Brain and Memory Development
Learning new passages of music and memorizing these for performance situations.
Responsibility
Working independently and working with expensive and delicate equipment.
Sense of Achievement and Value of Perseverance
Learning new or difficult passages of music. Performing to a crowd and entertaining people.
Listening Skills
Listening to music in different ways, analysing musical elements and being able to write down what you hear.
Knowledge and Use of Technology
Being familiar with music technology which includes computer software, apps, studio equipment and guitar equipment such as amplifiers and effects pedals.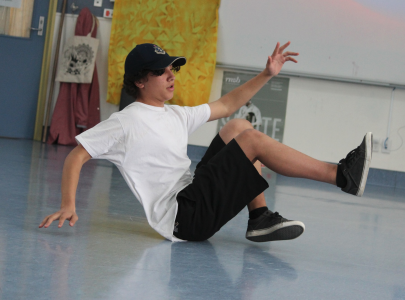 Dance
Dance is a physical, collaborative and creative subject which focuses on gaining confidence in both performance and choreography.
It encompasses the four main aspects. Performance: rehearsing dances of different styles, genres and cultures, gaining confidence in performing in solo or group situations. Whether this is to be a small group, a class or an assembly, confidence in performing is fundamental to a dancer's progress. Choreography: creating, workshopping and developing original dance pieces. Choreography also provides awareness about production technologies such as music editing, lighting design and costuming. History of dance: Where dance began and and how it has evolved. Theory: developing skills to identify the five fundamental elements of dance through life and recorded performances and to be able to critically analyse movements and the meanings each bring.
Dance can offer students a range of opportunities both in class and through extracurricular activities such as school production, Showquest and Dance NZ made. Taking dance throughout high school can lead into tertiary level training and provide you with skills which lead to a variety of jobs such as Dancer, Freelance Choreographer, Artistic Director, Rehearsal Director, Teacher, Commercial Entertainer.
Studying dance helps with the following:
Working Collaboratively
Working with others to develop, create and perform dance.
Develop Creative Thinking
Choreographing original dance pieces to express ideas through movement.
Self Discipline
Integrating mind and body to manage self to the best of your ability
Problem Solving
Solving problems that arise mid performance.
Persistence
Commitment to constantly learn and successfully execute new routines.
Leadership Skills
Learning to direct groups of dancers to perform routines you have created.
Curiosity
Exploring all the possibilities the language of movement can offer
Communication
Communicating through movement personal experiences, ideas and social issues.
Improving Self Confidence
Performing as a soloist or as part of a group in front of an audience.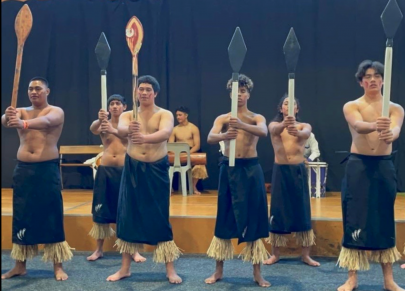 Pasifika
Pacific Studies can offer a range of opportunities both in class and co-curricular activities where students are able to gain confidence, lifelong skills and experiences being part of events such as ShowQuest, Pacific By Nature, Rotorua Pasifika Festival, Super 8 Cultural Festival and much more. Taking Pacific Studies throughout senior secondary education can lead into tertiary level training and provide you with skills which generally relate to the Performing Arts, Literature, Anthropology and History. While this subject is open to all cultures and ethnicities, it can especially help students of Pacific Island descent connect with their cultural heritage and roots, throughout their schooling years.
Pacific Studies incorporates the following aspects:
Knowledge, history and how to play Polynesian musical instruments across a range of Pacific Island countries.
Knowledge and history and how to perform Polynesian songs, chants and haka across a range of Pacific Island countries.
Knowledge, history and how to choreograph Pacific Island dances across a range of Pacific Island countries.
Knowledge of Polynesian art and exploring the history and meaning behind an array of Pacific Island patterns on tapa, flax mats, tattooing and carving.
Fundamental knowledge and recognition of a range of Pacific Island languages. This includes but it is not limited to: Samoan, Tongan, Fijian, Tokelau and Cook Islands.
Rehearsing and gaining confidence towards performing Pacific Island music and dance in solo and group performance environments.
Creating, workshopping and developing original music and dance pieces which are Pacific Island and Pasifika inspired.
Providing opportunities to visit Pacific Island performances and music workshops outside of school.
Providing opportunities to perform Pacific Island music and dance in wider community events throughout the year.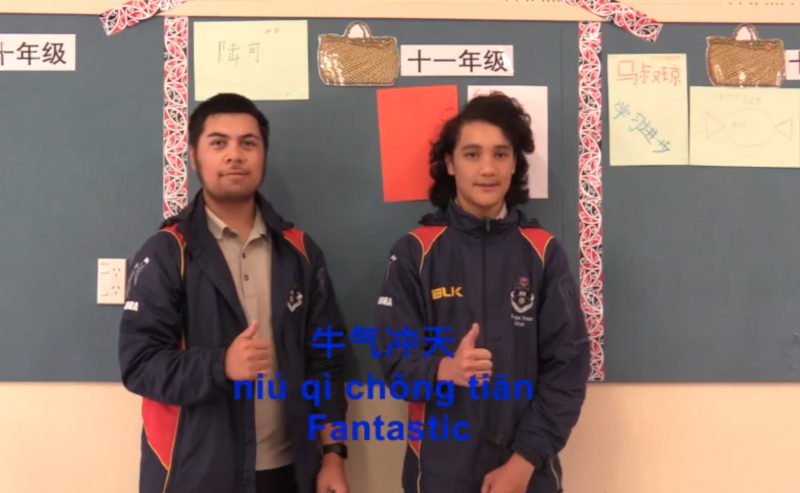 Chinese
Chinese language is about equipping young New Zealanders to become good communicators. By engaging with task-based language learning, students develop their spoken and written communication skills in Chinese, as well as their understanding and appreciation of the Chinese culture.
Learning Chinese is a fascinating journey. It opens doors to five thousand years of history. Chinese is the most widely spoken language in the world. Learning Chinese equips students with the ability to communicate with one sixth of the world's population. China is New Zealand's biggest trade partner. Proficiency in Chinese will offer more job opportunities in trade, technology, tourism, education and diplomacy.
Chinese is a UE approved subject. Through learning Chinese students develop a range of skills, such as people skills, communication skills and thinking skills.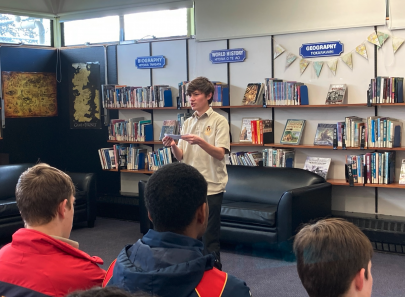 English
English is about understanding and using text. By engaging with language-based activities, students become increasingly skilled and sophisticated speakers, readers, writers, listeners, and viewers.
By understanding how language works, students are equipped to make appropriate language choices and apply them in a range of contexts. By comprehending meaning within text, students gain the ability to formulate their own meaning. Success in English is fundamental to success across the curriculum. Most learning areas require students to receive, process, and present information using the English language. In English students can enjoy and appreciate texts in various forms. They can develop a sense of identity and an awareness of how literature contributes to the world.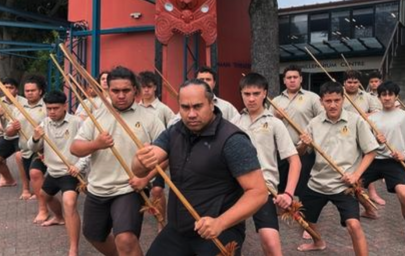 Māori
The Whare o Raukura is the hub of Māoridom at Raukura. We have two subjects taught in the Whare which are Te Reo Māori and Māori Performing Arts.
Students are equipped with the tools in Te Reo Māori to become more confident speakers of the language, and for some, confident in advising about tikanga and karakia and understanding their own whakapapa & tribal stories.
Māori Performing Arts is the stepping stone into the nationally recognised school kapa haka team, Raukura Kapa Haka and also breeding ground for the Super 8 Kapa Haka team, who compete in the Super 8 Cultural Festival. Māori Performing Arts is the vehicle used to instil confidence and leadership qualities into the students. Students will be prepared to be a part of a concert group or competition troupe in Rotorua.
Te Reo Māori allows students to learn about themselves. Te Reo Māori is the gateway to Te Ao Māori. It builds self esteem, awareness and pride. Identity and belonging are essential to one's confidence. Te Reo is the platform that provides the link with who we are and where we come from. It also opens up career opportunities across a range of industries and disciplines.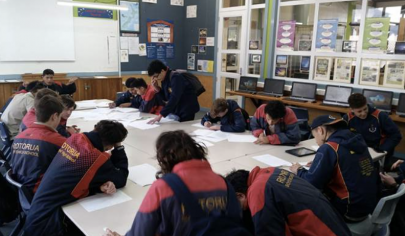 Mathematics
A misconception about Mathematics is that it is always about getting the correct answer, often it is about the processes we go through. Mathematics is about ensuring people are equipped to go out into the real world and feel confident about numbers, patterns and data. Within our courses we offer the challenges of both solving problems in everyday life and of analysing real life data that we are constantly being shown. By developing their skills through problem solving, we aim to help the boys become lateral thinkers, independent enquirers and have a love of numbers.
Our vision is to bring Mathematics into the 21st century. We aim to do this by equipping our boys with the skills needed to interact with the outside world, and to use technology and new software where appropriate.We want them to enter the workplace with a confidence to have a go, to feel good about their own abilities and to be current in their knowledge.
Success in Mathematics gives you a buzz. It makes you feel clever and have a sense of achievement. To study Mathematics is to step into the wider world and to open your eyes to new, often abstract, concepts where, sometimes, there isn't a correct answer!
It also has a serious purpose, which is to help you get the background knowledge you need for many future careers. There are actually thousands of different jobs that require some knowledge of Mathematics. These range from an Air Traffic Control Systems Analyst and a Lawyer to a Data Capture Facility Troubleshooter on the Hubble Space Telescope. Ever thought about the planes flying seamlessly through the air? The availability of complex medicines? Even the computer you are using now? Each of these increasingly vital commodities rely on the use and study of numbers. This comes from Mathematics.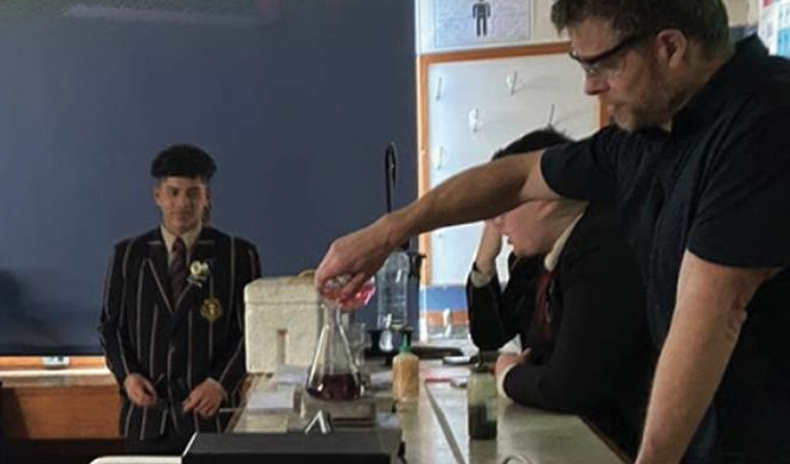 Science
Science is all around us, and our aim is to help our learners understand the part of the world that they live in, through the study of Biology, Chemistry, Earth and Space Science and Physics.
The world of Science contains a vast field of knowledge that continues to expand as new discoveries are made. As we grow in our knowledge of the world around us we become more able to live in a way that considers the physical and natural laws of our environment. With this knowledge we can become responsible citizens with a sustainable outlook on life.
Biology
Biology is the study of the living world, which includes the structure, function and behaviour of plants and animals.
In our senior Biology classes we start off learning about how living cells function, we study genetics to learn how our characteristics are passed on from one generation, we use microscopes to learn about the structure of plant and animal cells, we go on a field trip to Ohope to study the ecology of the rocky shore and we do a practical investigation to learn how plant cells transport water. In our last year of Biology, we study the behaviour of plants and animals in their environment and then look at how humans have evolved over the last few million years.
Chemistry
Chemistry is the study of the material world. We look at how chemicals react with each other, how different chemicals are structured and the practical applications of chemistry like gold mining and food manufacturing.
Chemistry is a valuable science that is seen as the bridge between Biology and Physics. It gives the background to the biological processes and uses physics to explain bonding patterns angles between atoms.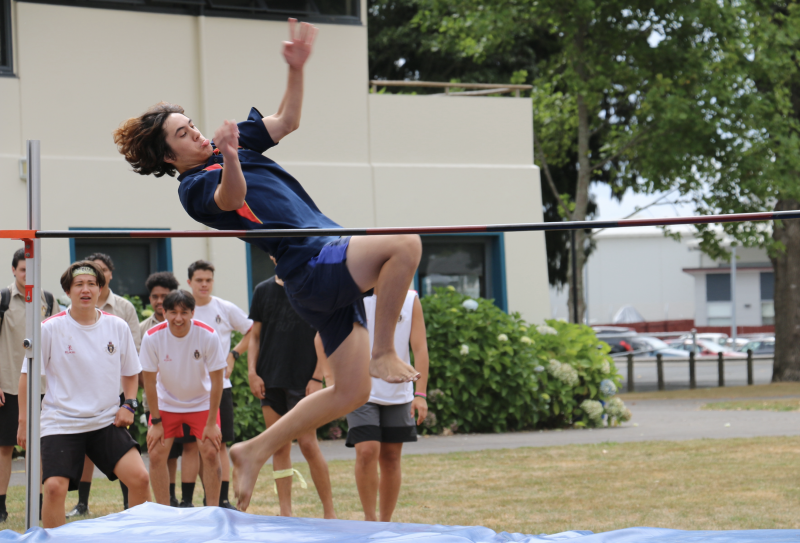 Physical Education and Health
Physical Education is "education through physical activity". It aims to develop students' physical competence and knowledge of movement, and their ability to use these to perform in a wide range of activities associated with the development of an active and healthy lifestyle. Students learn that well-being is a combination of the physical, mental and emotional, and social and spiritual. Physical Education also develops students' confidence and generic skills, especially those of collaboration, communication, creativity, critical thinking and aesthetic appreciation.
The seven key areas of learning are:
Mental health
Sexuality education
Food and nutrition
Body care and physical safety
Physical activity
Sport studies
Outdoor education
Why study Physical Education?
Promotes Active Lifestyles
Students are empowered to participate in physical activity and understand how this influences their own well-being and that of others.
Challenges Thinking in a Fun Environment
Physical education engages and energises students. It provides authentic contexts in which to learn. Students challenge themselves to develop their physical and interpersonal skills. Students can contribute to the development of physical education programmes and choose their own level of participation.
Builds Movement Competence and Confidence
The skills taught in physical education improve students' performance, sharpen their knowledge of strategy and tactics, and help them to transfer knowledge from one context to another, including sport, recreational and outdoor activities.
Develops Teamwork, Leadership, and Interpersonal Skills
Physical education explicitly teaches the necessary knowledge and skills for working with and relating to others, and provides the learning opportunities to develop these skills. It enables the development of leadership and teamwork skills and encourages students to transfer knowledge to other learning areas.
Explores and Develops Decision-making and Risk Management
Physical education provides a range of opportunities for students to challenge and extend themselves in an environment of managed risk.
Triggers Thinking and Action to Create Change
Physical education teaches students to think critically about movement and movement contexts, for example, considering an issue from different points of view, identifying what is influencing the issue, and explaining how the influences are affecting the issue.
Creates Learning Pathways
Physical education provides a solid foundation for further studies relating to movement and the body, including the social and health sciences, recreation, and tourism. It provides a pathway into the many careers that involve working with people, such as education, health, justice, and the social services.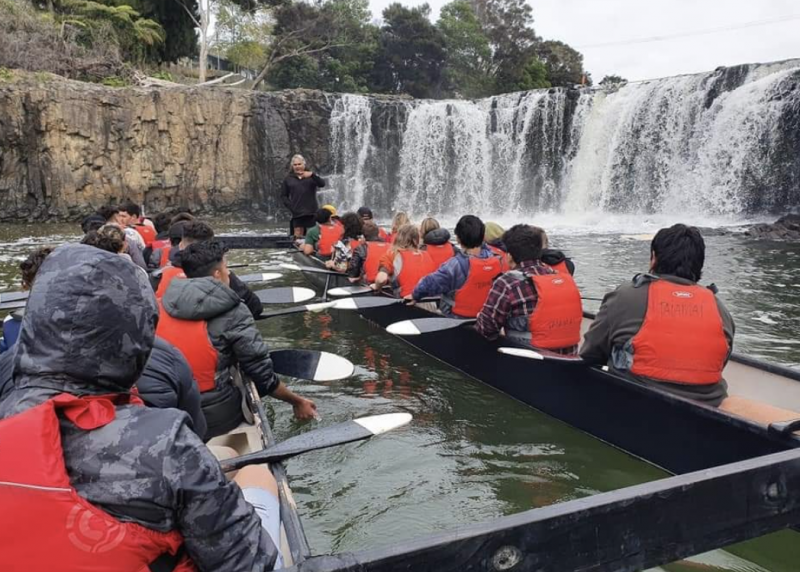 Social Science
The Social Sciences Faculty is a broad learning area encompassing six main subjects, namely, Geography, History, Economics, Tourism, Accounting and Social Studies.
The Social Sciences seeks to develop amongst the students an understanding of the physical and cultural environment in which the students live, as well as an understanding of the communities beyond our horizons - in the Pacific region as well as globally. We also work to enable students to develop a historical awareness of events, people and places, to assist students to understand where they came from, clarity on the present and greater insight on the path ahead.
Within this context, students will develop economic skills that contribute to an understanding of the processes operating in our world.
An understanding of social phenomena such as businesses, historical change, economies, mass media and networks and man's impact on the environment, are central to the quality of our lives. We interact with each other. We all need to develop a range of skills to successfully negotiate a productive life in this world and the Social Sciences provides many of the fundamental skills required on this journey.
Geography
Geography at its core is focused on the examination of the environment from a spatial perspective. We look at the interaction between people and the environment. We identify patterns in the landscape and then explain these patterns through the analysis of the underlying processes that change the environment.
You will be able to study Geography related subjects in the following degrees:
Bachelor of Tourism Management, Bachelor of Landscape Architecture, Bachelor of Environmental Management & Planning, Bachelor of Sport & Recreation Management, Bachelor of Science, Bachelor of Māori Planning and Development.
History
History is about developing an understanding of past events. We cover many different topics, from The 1981 Springbok Tour to the Origins of WWI. Our primary focus is looking at why events happened and how they affected people at the time as well as today.
History helps provide an identity. After all, how can we truly know who we are if we do not know where we have come from.
In History, we understand that the most valuable tools we can provide our students with are skills. We help to nurture and develop a number of skills in History such as reading, writing, researching, referencing and presenting. Each of these skills is important for students who are looking to go onto higher education.
Tourism
Tourism is a subject which explores different societies and cultures around the world. It allows students to think outside of their natural comfort zones, to think like an entrepreneur, to think and act like an environmentalist and to explore the future of the Tourism industry.
Students have the ability to learn from teachers with industry experience, who are passionate and desire for the students to be the best they can be. This allows the students to gain the practical skills and understanding of the industry. Tourism as a subject pushes the students learning, as they create websites, businesses and explore the many facets of tourism. Students have the opportunity to gain work experience, to experience local tourist attractions and the employment possibilities at these businesses and to earn a recognised tourism qualification.
Accounting
Studying Accounting allows students to develop their Numeracy and Literacy skills. It is University Approved and students can study through Year 11 with A.B.E (Accounting, Business and Economics) Level 2 Accounting, learning current Accounting Software MYOB and Level 3 Accounting and the investigation of current New Zealand companies and investment returns.
Social Studies
The essence of Social Studies is about people, places and the environment. We examine how people are organised in the world and we look at individual countries, cultures and our heritage. We study the resources people use and the economic activities that utilise natural and cultural resources. Changes to all these components is integral to the whole subject.
It provides the students with a good grounding in how society functions - from political systems, to migration, to values and ethics. The students acquire literacy and numeracy skills that form the basis of their functioning at senior school level.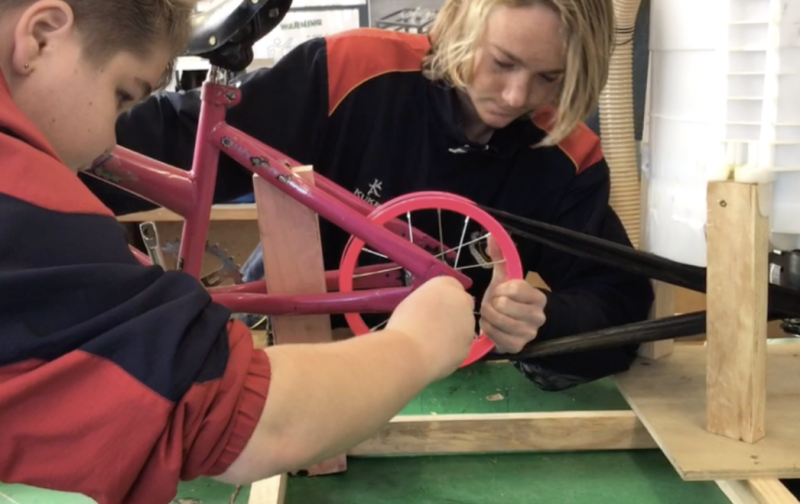 Technology
Technology is intervention by design: the use of practical and intellectual resources to develop products and systems (technological outcomes) that expand human possibilities by addressing needs and realising opportunities. Adaptation and innovation are at the heart of technological practice. Quality outcomes result from thinking and practices that are informed, critical, and creative. Technology makes enterprising use of its own particular knowledge and skills, together with those of other disciplines. Graphics and other forms of visual representation offer important tools for exploration and communication.
Technology is never static. It is influenced by and in turn impacts on the cultural, ethical, environmental, political, and economic conditions of the day.
The aim is for students to develop a broad technological literacy that will equip them to participate in society as informed citizens and give them access to technology related careers. They learn practical skills as they develop models, products, and systems. They also learn about technology as a field of human activity, experiencing and/or exploring historical and contemporary examples of technology from a variety of contexts.
Technology is associated with the transformation of energy, information, and materials. Technological areas include structural, control, food, and information and communications technology and biotechnology.
Relevant contexts can be as varied as computer game software, food products, worm farming, security systems, costumes and stage props, signage, and taonga.