Nabil - From Mali - Year 13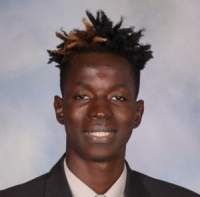 Raukura! A place where young boys become mature and responsible men. My name is Nabil Issa Kone, I am from Mali in West Africa. When I first arrived at Rotorua Boy's High School, I was shocked and overwhelmed to see only boys even though I was well aware of that before coming. I got scared of failing the year as I came very late and I got told that I needed 80 credits in total to pass. However, checking into Tai Mitchell Hostel was a blessing in disguise because I had never been to a hostel and my friends who had hadn't told me a single positive thing about living in a hostel. Instead, they would say " hostel life is boring, you won't get to do anything you want, you're always being watched, everything sucks" which gave me a bad impression about hostel life.
I started to get used to hostel routines such as going to bed at a certain time, waking up at a certain time, keeping your room tidy, wearing proper uniform and doing prep every night. After a couple of weeks, I was struggling to adapt to the lifestyle and environment because everything was different starting with the weather, food and all the way up to the school curriculum of New Zealand and even basketball itself at a certain point. Then I started to think outside the box and started to embrace everything positively in order to get something out of this whole thing that I had put myself into. Then I started to look at the results. My grades were good. Teachers are really incredible and everything we do in the hostel is designed for students to succeed academically, in sport and more importantly as a great human being.