Guillaume - From Samoa - Year 12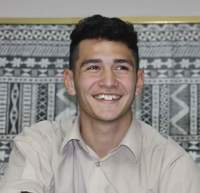 I hail from the Islands of Samoa, and have been living in the Tai Mitchell Hostel for three years.
I have learned many things during my journey here. Since I started at Rotorua Boys' High School, my academic achievement has leapt forward and I passed NCEA Level 1 with an Excellence Endorsement last year.
I really enjoyed being in the cast of the school's musical production of THE WIZ this year. The musical production was a memorable experience which involved students from both Rotorua Boys' High School and Rotorua Girls' High School. During my years at school I have also participated in Cultural activities and Stage Challenge.
Playing rugby at Rotorua Boys' High School has also been a lot of fun. We train hard and it was a fantastic experience to represent the school as part of the Rugby 1st XV Squad who competed at the SANIX WORLD RUGBY YOUTH TOURNAMENT in Japan in 2016.
I hope to pass my studies this year with an Excellence Endorsement and go on to University to study Architecture.