Technology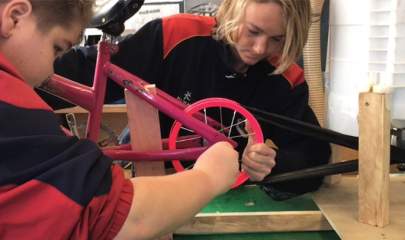 What is Technology about?
Technology is intervention by design: the use of practical and intellectual resources to develop products and systems (technological outcomes) that expand human possibilities by addressing needs and realising opportunities. Adaptation and innovation are at the heart of technological practice. Quality outcomes result from thinking and practices that are informed, critical, and creative. Technology makes enterprising use of its own particular knowledge and skills, together with those of other disciplines. Graphics and other forms of visual representation offer important tools for exploration and communication.
Technology is never static. It is influenced by and in turn impacts on the cultural, ethical, environmental, political, and economic conditions of the day.
Our vision is to:
To provide knowledge, skills and proficiencies necessary for the workforce by offering relevant meaningful projects.
Why study Technology?
The aim is for students to develop a broad technological literacy that will equip them to participate in society as informed citizens and give them access to technology relatedcareers. They learn practical skills as they develop models, products, and systems. They also learn about technology as a field of human activity, experiencing and/or exploring historical and contemporary examples of technology from a variety of contexts.
Technology is associated with the transformation of energy, information, and materials. Technological areas include structural, control, food, and information and communications technology and biotechnology.
Relevant contexts can be as varied as computer game software, food products, worm farming, security systems, costumes and stage props, signage, and taonga.
What is Digital Technology about?
Digital Technology is derived from and driven by the same principles as Technology as a whole. However, its focus is the use and development of products and systems that use or involve ICT. For example the development and application of Database solutions, Web page/site design and creation and the development of applications through computer program coding.
Our vision is to:
Develop students understanding of computers and their associated technologies (including software) and to have them develop creative solutions to problems using this understanding.
Students work collaboratively with technology to solve problems today, so that they are prepared to solve the problems of tomorrow
Why study Digital Technology?
Digital Technology is now a critical part of the way the world works. An understanding of Digital Technology is essential to being a global citizen and to being able to contribute meaningfully and effectively in the world. Having a deeper understanding of Digital Technology also provides those who study it with an advantage in dealing with emergent changes in the world as many of these are driven by Digital Technology.
What is Design and Visual Communication about?
Students work on two major projects for the year. The students negotiate the selection of any two of spatial design, product design, developing a presentation of one of their own designs (as in an exhibition), or formal working drawings. They learn and use visual communication techniques and strategies to initiate, develop and resolve design ideas. Students can undertake the design of inside and outside spaces, objects and artefacts, presentation design and graphics, and engineering or architectural drawings.
Our vision is to:
Provide meaningful projects, negotiated with students, that will help them to understand knowledge and skills based on the discipline of their choice (spatial design, product design, exhibition design, formal working drawings).
Why study Design and Visual Communication?
Design and Visual Communication is a fun subject. You can work on solving design problems that relate to your interests, and using visual communication strategies and techniques. If you love sketching, rendering, using digital media, photography, or making mockups and models, Design and Visual Communication helps you unleash your creativity and problem solving skills. Pathways may lead to understanding of building trades, product development or tertiary courses in design, architecture or engineering. Our students who go on to tertiary studies may major in spatial design, architecture, industrial design, surveying, landscape architecture, illustration, transport design, animation or gaming design
Design and Visual Communication Website:
mmagatogia.wixsite.com/rbhsdvc
The password to enter is rbhsdvc
Design and Visual Communication Instagram:
instagram.com/dvcrotoruaboys
What is Food Technology about?
The aim of studying Food Technology is to develop your skills, creativity, and knowledge to design and make good quality food products.
Food technology is the process involved in the conversion of raw materials to edible food products.
Analysing and following a design brief
Learning about food ingredients and their uses in food products
Nutrition and nutritional analysis
Food science
Understanding the process of food product development
Hygiene and safety
Quality and how it can be measured
Sensory testing
Developing skills in food preparation and cooking
Our vision is to:
Provide students with exceptional student centered education, based on current trends and industry standards. We aim to teach students the fundamental skills they need to progress in the Food Industry.
Why study Food Technology?
Job security – The food industry is one of the largest on the planet - people will always have to eat. This means anywhere along the food supply chain, there will always be job opportunities.
Diverse environment – In the food industry, there are literally thousands of different jobs available.
The people – People that work with food are some of the most hardworking and passionate people on the planet. Food is part of a service industry, and participants take pride in what they do.
Salary possibilities – It's no surprise that highly trained industry professionals can command high salaries in this truly global industry.
The food – If you love food, you will definitely enjoy working in this industry. You will discover cuisines and flavor combinations you never knew existed.
Travel opportunities – The food industry is global, and many large companies in New Zealand also conduct business overseas. Depending on your position, you may get to travel, often paid for by your employer.
RBHS Resource Website
rbhshospitality.weebly.com
Password: student
The website above contains valuable resources that can be used by students and their whānau.