Social Sciences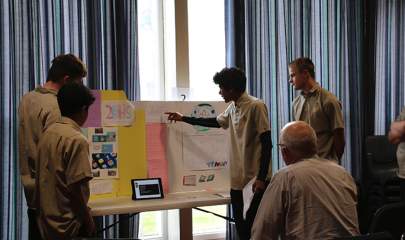 What are the Social Sciences about?
The Social Sciences Faculty is a broad learning area encompassing six main subjects, namely, Geography, History, Economics, Tourism, Accounting and Social Studies.
The Social Sciences seeks to develop amongst the students an understanding of the physical and cultural environment in which the students live, as well as an understanding of the communities beyond our horizons - in the Pacific region as well as globally. We also work to enable students to develop a historical awareness of events, people and places, to assist students to understand where they came from, clarity on the present and greater insight on the path ahead.
Within this context, students will develop economic skills that contribute to an understanding of the processes operating in our world.
Our vision is to:
Our vision is to enable our students to participate in a rapidly changing society as informed, confident and responsible citizens.
Success motivates our boys like nothing else. If we can ensure they get a taste of doing well, then they will develop that inner motivational drive and our responsibility is to facilitate that path to achievement through providing environments which support learning with enhanced digital technologies and culturally responsive, innovative and enthusiastic teaching.
Why study Social Sciences?
An understanding of social phenomena such as businesses, historical change, economies, mass media and networks and man's impact on the environment, are central to the quality of our lives. We interact with each other. We all need to develop a range of skills to successfully negotiate a productive life in this world and the Social Sciences provides many of the fundamental skills required on this journey.
What is Geography about?
Geography at its core is focused on the examination of the environment from a spatial perspective. We look at the interaction between people and the environment. We identify patterns in the landscape and then explain these patterns through the analysis of the underlying processes that change the environment.
Our vision is to:
Provide stimulating and challenging programmes of work that explore man's interaction with the environment. We seek to develop skills which can be used directly in vocational pathways to employment in the workforce as well as equip students with broader skills which will enhance their learning at a tertiary level.
Why study Geography?
You will learn to integrate knowledge from several disciplines from environmental planning to politics to community issues and ecology.
Geography will equip you with 'real world' skills. For example, in developing an understanding of current issues and practical ways of resolving these issues in a sustainable manner.
You will be able to study Geography related subjects in the following degrees:
Bachelor of Tourism Management, Bachelor of Landscape Architecture, Bachelor of Environmental Management & Planning, Bachelor of Sport & Recreation Management, Bachelor of Science, Bachelor of Māori Planning and Development.
What is History about?
History is about developing an understanding of past events. We cover many different topics, from The 1981 Springbok Tour to the Origins of WWI. Our primary focus is looking at why events happened and how they affected people at the time as well as today.
Our vision is to:
Provide students with an understanding of their identity and with the skills to succeed in higher education.
Why study History?
History helps provide an identity. After all, how can we truly know who we are if we do not know where we have come from.
In History, we understand that the most valuable tools we can provide our students with are skills. We help to nurture and develop a number of skills in History such as reading, writing, researching, referencing and presenting. Each of these skills is important for students who are looking to go onto higher education.
Most of all, students should take History because it is fun!
What is Economics about?
Economics is about the economy. It shows how different parts of the economy. For example, Government, businesses and consumers interact with each other. It looks at how decisions that Government makes affect price stability, trade, growth and employment. Policies that the Government implement affect each of these areas differently and therefore affects consumers and businesses differently. At Level Three we not only look at our economy, but also at the world and decisions that are made overseas and how they influence us.
Our vision is:
The vision for Economics students is that they will be able to understand the economy and the world in which they live. They will understand why the Governments make the decisions that they make and how they affect different sectors of the economy.
Why study Economics?
The reason that we study Economics is because it gives us a good insight into our world. It teaches us skills that can be used in life and the pathways from Economic subjects are broad. Students are able to go onto Polytechnic and University. They can gain jobs in finance, marketing, banks, Government to name a few.
What is Tourism about?
Tourism is a subject which explores different societies and cultures around the world. It allows students to think outside of their natural comfort zones, to think like an entrepreneur, to think and act like an environmentalist and to explore the future of the Tourism industry.
Our vision is to:
To change the way students view the world that we live in, to question everything and to ignite the passion for the Tourism industry and to explore the thousands of different opportunities the tourism industry has to offer, both here and abroad.
Why study Tourism?
Students have the ability to learn from teachers with industry experience, who are passionate and desire for the students to be the best they can be. This allows the students to gain the practical skills and understanding of the industry. Tourism as a subject pushes the students learning, as they create websites, businesses and explore the many facets of tourism. Students have the opportunity to gain work experience, to experience local tourist attractions and the employment possibilities at these businesses and to earn a recognised tourism qualification.
What is Accounting about?
Studying Accounting allows students to develop their Numeracy and Literacy skills. It is University Approved and students can study through Year 11 with A.B.E (Accounting, Business and Economics) Level 2 Accounting, learning current Accounting Software MYOB and Level 3 Accounting and the investigation of current New Zealand companies and investment returns.
Our vision is to:
Our vision is to give students the skills and knowledge to understand basic budgeting, preparing for future investments or to further their education for a career within the Accounting Sector.
Why study Accounting?
There is a real shortage of accountants in New Zealand and abroad. This is a pathway that will create a lot of opportunities for you in the future.
What is Social Studies about?
The essence of Social Studies is about people,places and the environment. We examine how people are organised in the world and we look at individual countries, cultures and our heritage. We study the resources people use and the economic activities that utilise natural and cultural resources. Changes to all these components is integral to the whole subject.
Our vision is to:
To enable the students to have an overview of how society is organised and functions and to equip the students with the essential social skills to function effectively in the school community.
Why study Social Studies?
Social Studies is a compulsory core subject taught at Year Nine and Ten.
It provides the students with a good grounding in how society functions - from political systems, to migration, to values and ethics. The students acquire literacy and numeracy skills that form the basis of their functioning at senior school level.