Physical Education and Health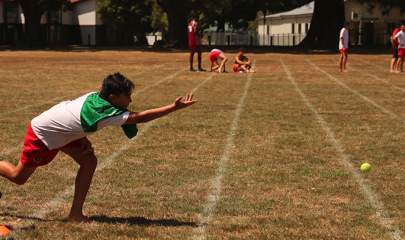 What is Physical Education about?
Physical Education is "education through physical activity". It aims to develop students' physical competence and knowledge of movement, and their ability to use these to perform in a wide range of activities associated with the development of an active and healthy lifestyle. Students learn that well-being is a combination of the physical, mental and emotional, and social and spirituaI. Physical Education also develops students' confidence and generic skills, especially those of collaboration, communication, creativity, critical thinking and aesthetic appreciation.
The seven key areas of learning are:
Mental health
Sexuality education
Food and nutrition
Body care and physical safety
Physical activity
Sport studies
Outdoor education
Our vision is to:
Provide opportunities for students to develop lifelong physical and social skills in order that they take responsibility for a healthy and active lifestyle, by providing appropriate challenges (physical and non-physical) through a variety of diverse physical activities.
Why study Physical Education?
Promotes Active Lifestyles
Students are empowered to participate in physical activity and understand how this influences their own well-being and that of others.
Challenges Thinking in a Fun Environment
Physical education engages and energises students. It provides authentic contexts in which to learn. Students challenge themselves to develop their physical and interpersonal skills. Students can contribute to the development of physical education programmes and choose their own level of participation.
Builds Movement Competence and Confidence
The skills taught in physical education improve students' performance, sharpen their knowledge of strategy and tactics, and help them to transfer knowledge from one context to another, including sport, recreational and outdoor activities.
Develops Teamwork, Leadership, and Interpersonal Skills
Physical education explicitly teaches the necessary knowledge and skills for working with and relating to others, and provides the learning opportunities to develop these skills. It enables the development of leadership and teamwork skills and encourages students to transfer knowledge to other learning areas.
Explores and Develops Decision-making and Risk Management
Physical education provides a range of opportunities for students to challenge and extend themselves in an environment of managed risk.
Triggers Thinking and Action to Create Change
Physical education teaches students to think critically about movement and movement contexts, for example, considering an issue from different points of view, identifying what is influencing the issue, and explaining how the influences are affecting the issue.
Creates Learning Pathways
Physical education provides a solid foundation for further studies relating to movement and the body, including the social and health sciences, recreation, and tourism. It provides a pathway into the many careers that involve working with people, such as education, health, justice, and the social services.