Māori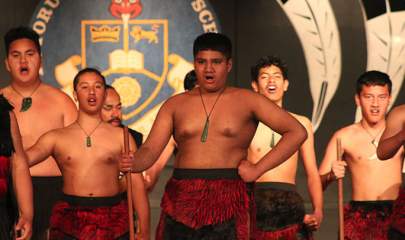 What is Te Whare o Raukura about?
The Whare o Raukura is the hub of Māoridom at Raukura. We have two subjects taught in the Whare which are Te Reo Māori and Māori Performing Arts.
Students are equipped with the tools in Te Reo Māori to become more confident speakers of the language, and for some, confident in advising about tikanga and karakia and understanding their own whakapapa & tribal stories.
Māori Performing Arts is the stepping stone into the nationally recognised school kapa haka team, Raukura Kapa Haka and also breeding ground for the Super 8 Kapa Haka team, who compete in the Super 8 Cultural Festival. Māori Performing Arts is the vehicle used to instil confidence and leadership qualities into the students. Students will be prepared to be a part of a concert group or competition troupe in Rotorua.
Our vision is to:
Have students who become leaders on the paepae of the world or ringawera of the marae, their workplace and at home. These young men equipped with the skills, attitudes and confidence are able to move easily in Te Ao Māori and in the wider environment.
Why study Te Reo Māori?
Te Reo Māori allows students to learn about themselves. Te Reo Māori is the gateway to Te Ao Māori. It builds self esteem, awareness and pride. Identity and belonging are essential to one's confidence. Te Reo is the platform that provides the link with who we are and where we come from. It also opens up career opportunities across a range of industries and disciplines.