English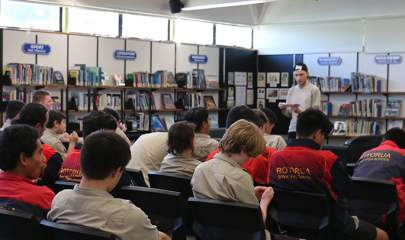 What is English about?
English is about understanding and using text. By engaging with language-based activities, students become increasingly skilled and sophisticated speakers, readers, writers, listeners, and viewers.
Our vision is to
Equip students with the ability to understand written, spoken and visual language, as well as the capacity to use it. It is important that our students can understand the meaning within text, and that they can shape text for their own purpose. Having a strong command of language, in all its forms, will allow our boys to understand the world around them, it will allow them to communicate effectively, and it will promote success in a range of curriculum areas.
Why study English?
Because it is important. Because it is enjoyable. By understanding how language works, students are equipped to make appropriate language choices and apply them in a range of contexts. By comprehending meaning within text, students gain the ability to formulate their own meaning. Success in English is fundamental to success across the curriculum. Most learning areas require students to receive, process, and present information using the English language. In English students can enjoy and appreciate texts in various forms. They can develop a sense of identity and an awareness of how literature contributes to the world.